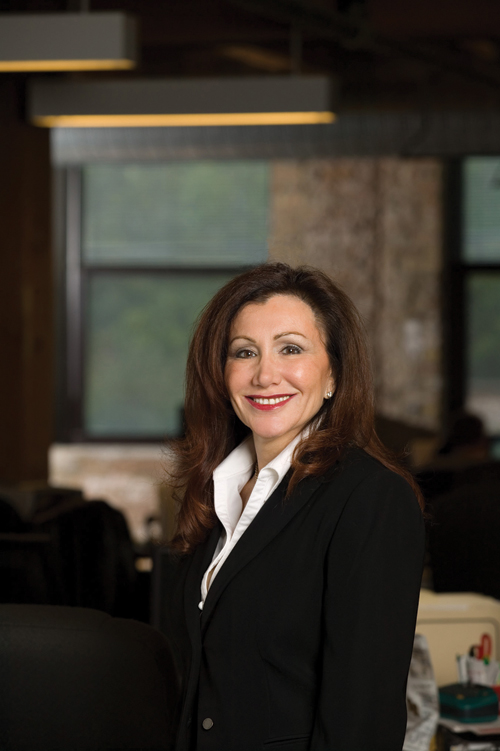 Beth Grossman has more than 25 years of experience in the financial services industry. She has held leadership roles with financial institutions as well as national, regional, and community banks. Beth possesses an exceptionally strong background in the mortgage field. As a regional vice president with Countrywide Home Loans, Beth formed twenty-three branches in the Midwest and led them to an annual production of $1 billion. She was responsible for sales and operations, recruiting, branch expansion, product and program growth, underwriting, and business development.
After her success at Countrywide, Beth worked as an area sales manager with Wells Fargo Home Mortgage where she received top divisional awards for her business development, compliance, and recruiting achievements. Beth's expertise in this field was also instrumental in increasing production by 200% for Guaranteed Rate while regional sales manager. Beth has also been a national underwriting manager; processing, closing and shipping department manager; and a top-producing originator. For seven years, she was a director of Banking, Mortgage & Financial Services at Angott Search Group.
Beth earned her MBA from San Diego State University, where her areas of concentration were finance and real estate. Her undergraduate degree was in education and she enjoys working with teams to help them learn and grow. She currently serves on the board of directors of Lighthouse Community Development, a local charitable organization that works to revitalize neighborhoods in need. Beth is also active in the local cultural community and other non-profit organizations.
Appearances on Fox 2 Detroit's Job Shop
Angott Search Group Conducts National Mortage Survey
Senior executives express their views on staffing plans and the future of the industry
By Beth Grossman
A recent survey conducted by Angott Search Group, a leading search and recruitment firm specializing in the mortgage industry, revealed the views of senior residential mortgage banking executives throughout the country on topics ranging from their staffing plans for the near- and long-term to incentive plan outlook and expectations for the future.

In a surprising "silver lining" to the housing crisis of the decade, mortgage sales and closing activity are strong. This is primarily due to record low-interest rates, despite continuing problems with foreclosures and short sales.

The residential mortgage banking industry is stabilizing, and those organizations who have positioned themselves for this opportunity are seeing positive results to their bottom-line profits.
Current Environment
All respondents reported that the current mortgage environment presents a good opportunity for their organizations, across all-size companies. The immediate future looks good, with 90% of respondents seeing growth opportunities for their organizations. Only 7% felt that the foreclosure and housing crisis has caused their regulators to take a step back, and 3% said although they weren't struggling, they were stabilized and not moving forward.
Staffing Plans
Hiring is far more selective than in past years, with all companies hiring only experienced producers with their own books of business. Those loan officers with a proven track record of success are highly sought after and appreciated by hiring managers.
Given the emphasis on regulatory requirements and burdens, staffing will increase in this area, as well as in support for originations. Some executives expressed concern about the limited pool of qualified talent over the past 12 months. Others were cautiously optimistic and were trying to hold off on hiring support for originations given that the volume is primarily from refinancing and not purchase activity.

On an overall basis, 52% of respondents are expecting some addition to staff levels, with 34% indicating increases in the production/sales area, and 24% in operations including underwriting. An additional 13% comes in the compliance sector. Only 6% expected staffing increases in the loss mitigation department, and lending management is expected to rise by a modest 10%.

Many disclosed the ability to obtain excellent talent with people who had to take a position at a lower salary or have no position at all. While there are many outstanding mortgage individuals in the marketplace available for leadership roles, a shortage of underwriters exists for such roles. In some organizations, hiring freezes are in place for all roles other than mortgage, so the hiring must be well supported.
Factors in Attracting Talent
Key factors for attracting talent to the organizations in the survey group were: Better opportunities, a stable and growing organization, and long-term retention components. Several companies are planning on revising their bonus plan objectives and targets.
Economy
Several respondents disclosed that it might be a good time to re-enter the wholesale arena. Many of the community bank executives indicated that they were pleased that their basic structure was already in place and that they are able to expand. Others indicated that they had already added sales and processing staff planned for a later date, but that was expedited sooner due to the current low-rate environment. Some respondents indicated that the high-activity levels permitted them more sales growth than they had anticipated when the foreclosure crisis began. Issues with property values still exist, and appraisals are one of the key areas of concern in all transactions.
Obstacles
The biggest obstacles, as seen by this group, ranked equally at 39%, were a qualified local talent pool and regulatory burdens/oversight. Clearly, these two items are of greatest concern to these executives. The talent pool issue occurs primarily in the front end and underwriting segment of the mortgage process, with the surges in activity. The regulatory burdens are seen to be a continuing concern, with executives believing that the oversight will not only be continuing, but will increase in the coming months.
Outlook and Summary
On a positive note, 43% of respondents were optimistic about the industry. Another 43% were neutral, and only 13% of the group was pessimistic about the industry. The respondents were pleased at the impact that the increased volume has had at their organizations, and in spite of challenges in the economy and with staffing, they welcome the activity levels. Given that Angott has seen a 45% increase in total search activity from last year to this year in its financial service and banking group, the trend bodes well for those seeking growth in the mortgage banking sales and service sector.
Emotional Intelligence: Another Look at Networking and Interviewing
By Beth Grossman
The term "emotional intelligence" (EI, or sometimes called EQ) was first introduced in scientific papers almost 20 years ago. However, job seekers, employers, and employees are just now beginning to realize how important EI can be to their success.

EI makes the difference in obtaining a coveted interview, job, or promotion. The ability to connect with a hiring manager or even the receptionist certainly helps a candidate get his "foot in the door."
Emotional intelligence can be seen to consist of four components:
being self-aware;
being socially aware (having empathy and social responsibility);
exhibiting self-management skills (self-control, stress management, self-motivation, and adaptability);
displaying appropriate social behavior (honesty, collaboration, conflict management).
Though these skills can take years to develop, fortunately, emotional intelligence can be honed with exercises and hard work.
While for some people, EI is an innate, natural ability, others have to work to improve their skills. There are improvements you can make in your attitude and work style to modify that perspective.

Most jobs today require teamwork, and employers want candidates who work well with others. However, you may have always preferred to work alone. Now that you are seeking a new job, letting the interviewer catch a whiff of your distaste for teamwork could be a deal-breaker! Conventional wisdom might say, "Tell 'em what he wants to hear," but your long-term achievement is best secured by self-improvement in today's competitive world.

Many books have been written about emotional intelligence, and some even focus specifically on its application to the workplace. One of my favorites is "The Smart New Way to Get Hired: Use Emotional Intelligence and Land the Right Job" by Lisa Caldas Kappesser.

If you aren't working, use your time wisely to improve EI skills. I know of several instances where people—despite their obvious qualifications—lost out on coveted interviews, jobs, and promotions because their emotional intelligence needed improvement. Don't let this get in the way of your next career move: connect with your interviewer or your boss, and move up today!
The Intimidation of Social Networking
By Beth Grossman
To the uninitiated, it may seem that "social networking" is only for executives who want to chat about their bond portfolios—another name for the kind of schmoozing that is done on the golf course. This could not be further from the truth. Social networking just means making contacts on the internet using websites where people congregate—including Facebook, Plaxo, LinkedIn, Twitter, and Myspace.

The tips that networking gurus give are as useful for junior employees as they are for executives. The ability to source contacts and companies on the internet, to connect with people you couldn't talk to otherwise, works for many levels of job-seekers. The only way to see how "social networking" can help you is to start doing it.

Of course, like any new idea, it can be intimidating and overwhelming. To break it down, all these sites are about finding people and companies and communicating with them. Pick a service, and use it to find people at companies about which you'd like to know more. My personal favorite is LinkedIn.com. It's easy to use and gives you space for a resume-type profile and a photo. (You may not think a photo is important, but remember that you are there to make personal connections with other people in your industry: it is hard to feel personally connected without a face to put with a name!)

There are many resources that offer instruction on how to use the sites effectively. Just google "linked.com instructions" or "how to use linkedin.com. " Google is one of my favorite ways to find out basic information quickly. Being efficient and effective at internet searching is like having an instant encyclopedia at your fingertips. In the same way, being a good social networker is like having a full rolodex at your fingers. If you get past the intimidation of social networking and make connections with other people in your industry, you'll find your professional world has expanded far beyond the confines of your office.
Shifting Patterns of Retention and Recruitment in Wealth Management Organizations
In the current volatile economic environment, a shift in the pattern and style of wealth management and private banking is taking place in geographic markets around the nation. As profit margins shrink, the wealth management segment of the banking platform is one of the most profitable, carrying the least risk. With the aging of the baby boomer population, more wealth is becoming available, more people are retiring and financial institutions want to be part of this trend.

As a result, more banks are entering this platform, and wealth organizations are seeking to hire and develop the "hunter-gatherer" or rainmaker—the person with a large sphere of influence, a big book of business and the ability to move much of that book. Although a large number of investment advisors are available for hire right now, they are not always the candidates banks, financial institutions and boutique wealth management firms are seeking to work with their wealthiest clients.

As the economic climate becomes more challenging, employees seek stability, which is harder to find as the choices become narrower with every consolidation, merger and acquisition. Many institutions and boutique organizations are finding success by growing organically. Leaders are working with portfolio managers, for example, recognizing that their clients have come to rely on them for their technical knowledge and expertise in these challenging times.

Several trust banks have also combined the CFA, CFP and business development roles into a team concept that is gaining synergy within their organizations. The team makes investment and allocation decisions together – no one person is responsible for a decision; instead the group can make wise decisions based on the team's collective intellect. Clients benefit from the expertise of several people, and the company gains loyalty to the organization, leaving less likelihood of a "mutiny." Clients still have an allocated wealth manager (or planner, client advisor, portfolio manager), but they know that their team makes investment choices and that research analysts are also available to work behind the scenes.

Recent studies indicate that there is little succession planning occurring at most organizations to ready the trust sales department for the people that are needed to take on these roles as retirements occur. Forward-thinking organizations are training their current staffs for the trust sales expertise that will be needed in the coming years. Although the markets have suffered in the current economy and the boomers may wait a few years longer to retire, they will eventually retire and they will have funds to invest. Those organizations that do not have trained and knowledgeable staff to work with those clients will lose the race for those profitable dollars.

Networking Tips
Best Practices
Simplest Advice: No one has ever made contacts by doing nothing! Start now and make a commitment for at least 1 hour a day. Increase the time and activities as your confidence grows.
Start with your immediate centers of influence, people you know well and who would be willing to provide you advice, assistance, referrals, etc.: friends, family, co-workers, bosses, former co-workers, etc.
Brainstorm contacts-potential contacts, people with whom you did business, former clients, alumni.
Overcome call reluctance-it's real and very common and there are specific techniques to overcome it.
Go to the library and the bookstore and online. READ and talk to people and evaluate your career path and what you really want to do.
Learn how to use Google to search for information online.
Do you need to reinvent yourself? If so, take some profile tests or see a career coach and discover what you want to do next. Don't just leap into another job if you weren't happy in the last one or if your career path is at a dead end.
Use networking sites, but don't expect them to yield results just by being online. Use them as one tool in your toolbox. Spend time online but not all your time online.
Plan to get to an event (interview, lunch meeting, networking event-job, association meeting, interview, etc- at least 2 times a week minimum). Take a class, join a networking group, go to events you read about-go where you have likelihood of interacting with people.
Ask for contacts. Don't assume people know what you do or that you are seeking a new job. People LOVE to give advice and talk about their own lives. Ask them about themselves.
You don't need to actually ask for a job-look to make connections and ask questions.
Hearing "no" means you are getting closer to yes. Overcome that sinking feeling you get when you hear "no."
Enlist someone else as your spokesperson, someone who can brag about you so you won't have to.
Even if you are uncomfortable, do it!
You don't need to be a computer whiz to network-start with LinkedIn.com—it's very easy to navigate.
Twitter can be used to "follow" people in industries or at companies where you'd like to work or in which you're interested. Remember that you are business networking. There is a difference between social and business networking— remember it!
Think about what you can offer others also: your contacts, your insight, and knowledge.
Always be very polite and professional—your Facebook profile will be reviewed by your business contacts so don't get "too comfortable."
Set realistic expectations.
Set small goals that are attainable.
Consider using a journal to track progress to goals.